Product Index
Informational Links
Mailing List

Item Details
Recommended Items

BAD-FANG4
Adult story anthology, around the theme of "Life after High School".
$19.95

ArtD03
Adult comic by artdecade, featuring a May-December romance in the country.
$7.95

Kelvin07
The adventures of Whomper continue!
$4.95
Item Reviews

Related Items

Graveyard Greg's first novel!
$19.95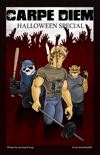 Carpe Diem by Graveyard Greg Series Comic, Rated PG-13.
$7.95

Sabrina-Online.com: An internet tradition since 1996
$3.95